Click on a name for more information.
Grant Gordy – USA
Midnight Skyracer
Flats & Sharps
Jaywalkers
The Rip Roaring Success
The Dan Walsh Trio
The Shackleton Trio
The Often Herd
Thunderbridge Bluegrass Band
The Lowly Strung
The Vanguards
The Ragged Out String Band
New Essex Bluegrass Boys
Dalebilly
Molly & The Blackbriar Band
Western Edge
Appalachian Dancers:
Brandywine Cloggers
Knickerbocker Glory
For several years Brooklyn-based guitarist Grant Gordy has been a major voice on the American "acoustic music" scene, and one of the most highly regarded young instrumentalists of his generation. Having held the guitar chair in the legendary David Grisman Quintet for six years, he's also worked alongside such musical luminaries as Edgar Meyer, Steve Martin, Tony Trischka and Darol Anger. Grant has performed all over North America and Europe. You do not want to miss seeing and hearing one of the finest flatpicking guitarists in the world today!
IBMA Momentum Award nominated bluegrass band, Midnight Skyracer have been tearing up the UK bluegrass and folk scene since their inception less than two years ago. Their all star lineup and exciting live performances have sent them racing skywards at an astounding pace right from the start, with Leanne Thorose's powerhouse vocals and driving mandolin; Tabitha Agnew's sweet voice and virtuosic banjo playing; Eleanor Wilkie's rock solid bass grooves; Laura Carrivick's flair, being equally adept on both fiddle and dobro; and twin sister Charlotte's agility on the guitar, with both sisters filling in the vocal harmonies.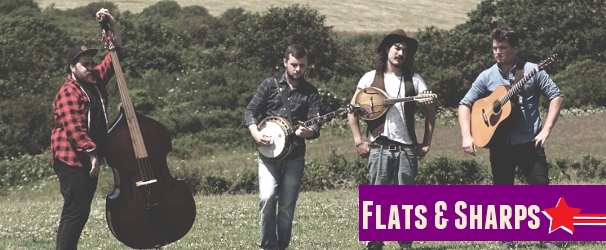 Flats and Sharps have been playing hard driving finger pickin' bluegrass for over 7 years, not bad for a raggle taggle bunch of young Cornishmen. They have played to audiences the world over and have won fans young and old with their blinding picking, sublime harmonies and high energy live performances. This year, Flats and Sharps have refined, distilled and recorded the experience they have gained over the years and will be touring their brand new album – "The Bluegrass Album" (subtlety hasn't quite reached the South West yet).
Flats and Sharps are here to put a smile on your face and get your feet a movin' with their own unique mixture of contemporary original music, Americana & Bluegrass. Peace, love & good vibrations! xx
Josh Warner – vocals, acoustic guitar.
Mikey Ponsford – vocals, mandolin.
Liam Fitzharris – vocals, double bass.
Danny Hart – vocals, fiddle, banjo.
Jaywalkers have been delighting audiences for over 10 years; taking their exciting, inventive and virtuosic brand of Bluegrass & Americana up, down and around the UK and Europe and are returning to Didmarton this year with their new album – Time to Save the World. These three outstanding musicians have developed a tight bond, demonstrated through their well-crafted, tasteful arrangements and ability to bounce ideas around the stage. The combination of powerhouse bass, flame-fingered mandolin, blistering fiddle and three-part harmony pack a punch as fiery as Jay's lead vocals and make a fuller sound than expected from an acoustic trio.
The Rip Roaring Success are the hottest Western Swing Band East of El Paso featuring Wild Miss Lucille on double bass, Miss Jay tearing it up with some smokin' hot fiddle and the token gent, the one and only Rusty on six strings of flamin' geetar and hillbilly vox. Folk at venues and festivals up and down the country will testify that when you want the prairie set on fire with jumpin' ho-down tunes then there ain't no success like a rip roarin' one.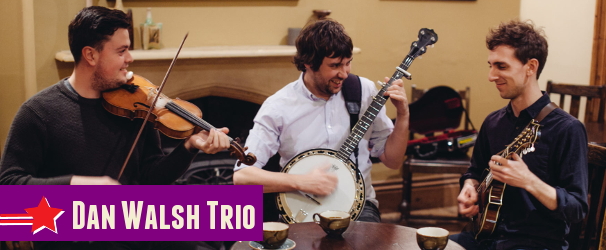 Nominated for best musician at the BBC Folk Awards, banjo maestro Dan Walsh combines 'virtuoso playing and winning songwriting' (MORNING STAR). This exciting new trio sees him team up with award winning fiddler Ciaran Algar and long time collaborator Nic Zuppardi on mandolin. At the heart of the trio's sound is British, Irish and American folk music delivered with a healthy dose of funky grooves. Add to all that poignant songs, astonishing musical departures and lively humour and the result is sure to be a truly memorable live show featuring three of the most in demand musicians on the folk scene today.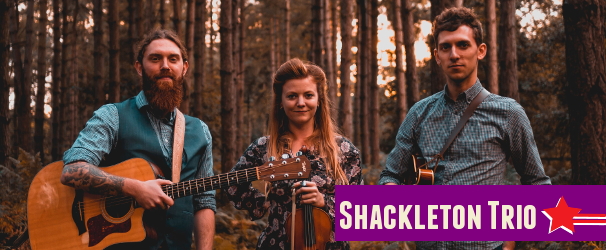 A highly original and energetic musical force just as likely to move you to tears as to move you to your feet. The Shackleton Trio are Georgia Shackleton (fiddle, vocals), Aaren Bennett (guitar) and Nic Zuppardi (mandolin). Natural talents of the folk tradition, their self-penned material blends seamlessly with their imaginative yet authentic re-workings of traditional folk standards, influenced by British, American and Scandinavian folk traditions, with a regional twist from the group's native East Anglia. The unique, distinctive songwriting style of Georgia Shackleton, combined with the vibrant instrumental brilliance of Aaren Bennett, Nic Zuppardi and Georgia's pure and original voice have developed and matured through two critically acclaimed albums: The Dog Who Would Not Be Washed and new release Fen, Farm and Deadly Water.
The Often Herd reach beyond what is expected of a bluegrass band, marrying the wistful sunshine harmonies of Southern California with the striking industrial allure of their home in the North East of England. An engaging and dynamic live act, the band are able to pull off their intricately arranged material alongside moments of exciting, spontaneous improvisation. Rupert Hughes (guitar) and Evan Davies (mandolin) are responsible for penning the band's vibrant and catchy original music. American fiddler Niles Krieger and jazz bassist Sam Quintana contribute deft and dynamic instrumental skills that lift the songs to new heights.
Fresh from a year of touring around the UK and Europe, releasing their debut EP and bringing home 1st Place in La Roche Bluegrass Festival 2018's prestigious band competition, The Often Herd are bringing their sensational energy to audiences during 2019.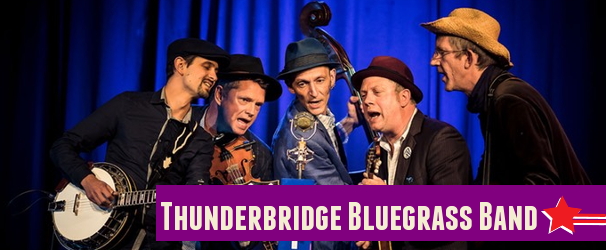 Out and about bringing their own version of bluegrass to venues big and small across the UK and beyond, using one microphone, five instruments and voices which blend together to make a highly traditional yet thoroughly original sound. Honest all-acoustic music featuring fiddle, banjo, guitar, mandolin and double bass. Some classics, some covers, and many self-penned, there is something for everyone. Come and see us, and say hello!
Nick Girone-Maddocks – mandolin/vocals
Matt Gryspeerdt – fiddle/vocals
John Breese – banjo/vocals
Paul Hill – guitar/vocals
Jules Bushell – double bass/vocals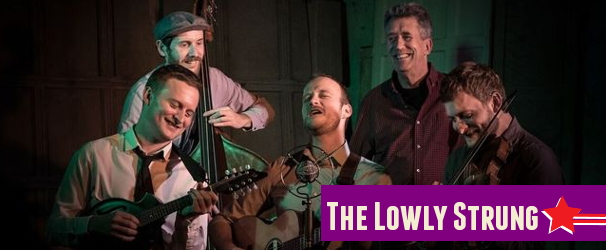 Maidstone-based Lowly Strung, an exhilarating five-piece Americana/bluegrass band, have been building a sizeable and passionate following across Kent for their vibrant and exciting blend of country and bluegrass music that has had younger music fans whooping and hollering with enthusiasm. The band, comprising Toby Starks (lead acoustic guitar, lead vocals), James Starks (mandolin, vocals), Jonny Starks (fiddle, vocals), Malcolm Peet (Dobro) and Jon Fuller (double bass), have recently released their acclaimed NO TOMFOOLERY debut album.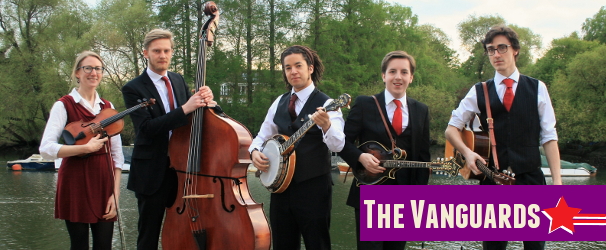 The Vanguards are a five-piece traditional bluegrass band based in London, consisting of Jack Baker on mandolin, Alex Clarke on guitar, Chris Lord on banjo, Laura Nailor on fiddle and Pete Thomas on bass. They take their musical inspiration from the originators of bluegrass music. Instrumentally, they seek to create a sound which blends the mandolin style of Bill Monroe, the banjo style of Ralph Stanley and the old-time style of fiddling which typified early bluegrass recordings and which continues to influence the sound of traditional bluegrass bands into the present day.
When not playing their original material, their repertoire reflects these musical influences. Their choice of songs strongly favours those written or recorded by The Stanley Brothers and Ralph Stanley and The Clinch Mountain Boys, but they also feature several songs made popular by Bill Monroe and His Blue Grass Boys and Flatt and Scruggs. Their particular passion is exploring and faithfully recreating bluegrass music's many rarely-heard compositions, particularly those written by Bill Monroe and Dr. Ralph Stanley.
The Ragged Out String Band are a London-based group playing an infectious and energetic take on Old-Time Appalachian Folk Music, Americana and Bluegrass. Expect fiery fiddle tunes and tight vocal harmonies backed up by a driving rhythm section of guitar and banjo. The band are Emily Smith (fiddle), Joe Auckland (banjo) and Andy Quelch (guitar). 'The musicianship is top-notch and the playing and singing is tight.' British Bluegrass News. 'An honest, well-executed performance with brilliant playing.' Old Time News.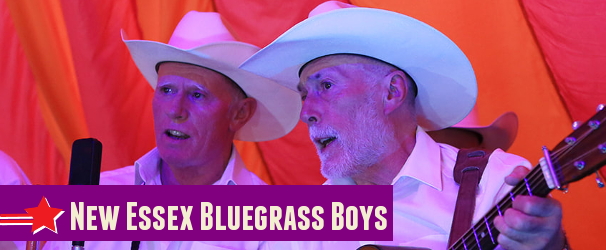 Many Bluegrass followers were sad to hear last autumn that the New Essex Bluegrass Band had disbanded after twenty-five years delighting audiences throughout the UK and Europe. The good news is that founder members Terry Hymers, and Paul Brewer are continuing to perform together, singing their tight harmonies on tradition brother duets and bluegrass favourites. We are delighted to welcome them back to Didmarton this year, where they will perform a full feature set on stage and also lead the Sunday morning Gospel session.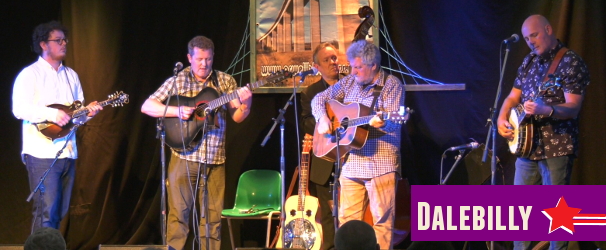 Dalebilly first started at the Yorkshire Dales Bluegrass Festival, as a support for a USA band in 2006. The format over the years has changed a little, though the three original members have stayed the same. Dalebilly play a mixture of traditional and modern bluegrass, with solid instrumental backing and tight harmony singing, crafted from many years of playing and performing Bluegrass Music.
Bluegrass, Country, Folk and Western Swing.
The Band members include:
Molly (vocals) – a powerful singer and brings a touch of County Cork charm.
Mike (vocals/guitar) – a long-standing character on the UK Bluegrass scene, having played (bass) in one of the first successful UK Bluegrass bands, Orange Blossom Sound (TV, Radio and CBS Records).
Dick (bass) – another well established musician on the UK Bluegrass scene, having played in bands with most of the current top performers – most recently with Monroe's Revenge.
Jimmy (fiddle/vocals) – an outstanding fiddler, skilled in a range of genres. Currently also plays with The Biggin Hillbillies and Captain Swing.
Hilary (banjo) – an enthusiastic new-comer to the Bluegrass world, having played in a number of bands, including with UK Bluegrass legend Rick Townend, The Boston Boys and with 'Alive & Picking' (Bluegrass Plus Club).
The band has recently appeared at the Westport Bluegrass festival Co. Mayo 2019 and the Dunmore East festival Co, Waterford 2017 and the Orwell, Tamworth, Naseby and South Essex Bluegrass Festivals.
Formed around 6 years ago and based in far flung West Wales, Western Edge deliver a mix of hard driving bluegrass, country and Americana with a balance of self-penned material and covers.
The band are:
John Campbell – guitar
Linda Harris – bass
Roland Emmanuel – mandolin
Kevin Lewis – banjo
Established in 1991 and based near Newport, Brandywine Cloggers perform a style of high energy, percussive step dance, developed in the Appalachian Mountains of eastern USA, with origins in the folk dances introduced by the settlers. Appalachian clog is an improvised, lively dance style encompassing elements of English, Irish, African-American, and Native American foot-work and rhythms. Originally those with workday boots danced in them whilst poorer performers danced in bare feet. Today clogging is more stylised and dancers wear leather shoes with steel heel and toe taps. We choreograph our own dances, synchronising percussive stepping with Bluegrass and Old Time banjo and fiddle tunes performed by our string band, The Grey River Boys.
Knickerbocker Glory is an Appalachian Dance team based in Alton, Hampshire. We favour the precision clogging style of Appalachian dance, performing set routines to our audience and are very lucky to have live music from our talented musicians. We perform throughout the summer at festivals, fairs, pubs and barn dances all over Southern England. In the winter, we meet regularly to practise, and just to be sociable.
BBMA Open Stage
This is intended for new or inexperienced performers. The BBMA OPEN STAGE in the Clubhouse will run from 4.00pm-7.00pm on the Friday and Saturday. Just pop along to the merchandise tent or Clubhouse and sign-up if you'd like to perform. Your names will be transferred to a blackboard running order by the stage. This is also an Old Time Session area when there are no open stage performances.