Line-Up
Read all about the artists who performed at Didmarton in 2023 and keep checking back for announcements on artists for 2024!

Flats & Sharps
Dan Walsh & Brooks Williams
The Steve & Ben Somers Band
Nobel Jacks
Joff Lowson Trio
Blue Lass
The Often Herd
The Grove Band
Long Way Home (Netherlands/USA)
Jaywalkers
The Lowly Strung
The Boatswain Brothers
The Vanguards
The Lewis Cohen String Band
Frequent Strangers
Crooked Moon (Appalacian Dance)
The Happy Band (Dance Band)

Flats & Sharps are a four-piece bluegrass outfit from Penzance, Cornwall. Delivering energetic, enthusiastic, and spirited Bluegrass to audiences all around the world, Flats & Sharps have been performing their unique take on this music for over ten years. Their shows include a wide variety of influences, from a fresh and modern outlook on foot-stomping Bluegrass material through to their powerful and well-crafted original songs, with beautiful moments everywhere in between. Their music perfectly blends strong harmonies and stonking solos, their incredible stage presence and energy create an evening that'll have you dancing, laughing and singing along in no time. Over their time together, the band have made their presence known all around the world, including multiple tours in Australia, Europe and around the UK.
Admired by both listeners and fellow musicians alike,
Brooks Williams
and
Dan Walsh
combine talents for an extraordinary collaboration of British and Americana roots music. Each is a leading light on their respective instruments and they both bring buckets of charisma and talent to the stage. Add to that poignant songs and lively humour and the result is a truly remarkable duet. They will simply knock your socks off.
Brooks Williams plays guitar with 'melodic virtuosity' (IRISH NEWS), effortlessly combining old-time fingerpicking, country flat picking and bluesy backbeats. He's rated one of the Top 100 Acoustic Guitarists and is 'quite simply one of the most unassuming, natural performers on the circuit' (FATEA).
BBC Folk Awards 'Best Musician' nominee Dan Walsh plays British, Irish and American folk music. His 'virtuoso playing' (MORNING STAR) features a unique and dazzling take on clawhammer style banjo. 'Absolutely terrific' (Mark Radcliffe, BBC RADIO 2).
The Steve & Ben Somers Band, deep rooted and steeped in tradition yet creative and fresh, alongside the vocal gymnastics of harmony yodelling and the dazzling virtuosity of Cowboy Jazz the father & son led group plays original and traditional Country Music, Cajun Country, Western swing and Americana. Not only did Steve win TV's 'New Faces' in 1978 but they have also been the house band on the last two series of Channel 4's 'The Last Leg (Hank Gray). Other credits include Glen Campbell, Johnny Cash, Seal, Taylor Swift, St Paul & The Broken Bones, Joshua Hedley, Dr John, Don Everly, Lonnie Donegan and more.
With the fiddle leading the charge, Noble Jacks are out to take no prisoners with their high-energy footstompin' rhythms, which have taken crowds by storm across the UK and beyond. Their debut album 'What The Hammer' released to much acclaim. Since then, Noble Jacks have been touring relentlessly, with sold out shows across the UK, including Glastonbury, Isle of Wight and Bestival, plus major European festivals.
Noble Jacks exploded into 2022 with the release of their much anticipated new (3rd) studio album, 'Last Of The Wild', celebrating with a UK & European Spring tour as the band welcomed back live shows. This new album charted straight into the Top 40 Official Americana Album Chart.
Nominated Live Act Of The Year 2023 by the Americana Music Association UK, Noble Jacks are considered by many to be the finest purveyors of folk-influenced americana.
An eclectic blend of Trad. favourites, original songs and Victorian parlour pieces. When we play songs from the 19th century they sound like they were written yesterday, when we play our own songs they sound like they were written long ago. Three old friends, three voices, three instruments and all-new material, you will definitely hear something you have never heard before from Joff Lowson (lead vocals, banjo), Mike Pryor (double bass) Dave Brown (guitar).
Blue Lass are a five-piece bluegrass band, playing a combination of original and traditional bluegrass and old-time songs and instrumentals. Their music has a raw and organic sound and their sets range from energetic instrumentals to moody songs which transport the listener with their stories. The band features: Abbey Thomas – Mandolin, vocals, Holly Wheeldon – Guitar, fiddle, vocals, Philippa Ogden – Fiddle, guitar, vocals, Ruth Eliza – Clawhammer banjo, vocals, Cat Rebecca – Double bass.
The band's playing is reflective of their love of the great bluegrass of the fifties, but they also take a more contemporary approach in their arrangements, and blend old-time pieces into their sets. Each member takes their moment to lead the songs, adding variety to the mix, and the band's strong harmonies help them to stand out in a line-up. Their dynamic performance, each stepping towards the single mic to improvise a solo, gives their shows an authentic vintage feel.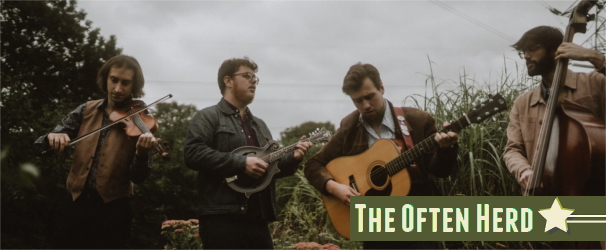 Bluegrass band The Often Herd transcend the traditional boundaries of the genre. Although they might resemble an American string band, complete with driving energy, tight vocal harmonies and dazzling instrumental interplay, their vibrant, transatlantic sound is deeply coloured by their surroundings; the striking natural and industrial landscapes of Northern England. This unique approach won them the title of "Best European Bluegrass Band 2018" at the prestigious La Roche Bluegrass Festival in France.
Rupert Hughes (guitar) and Evan Davies (mandolin), write songs steeped in personal experience whilst drawing from a wide pool of influences ranging from old-time to psychedelia. American-born fiddler Niles Krieger and jazz bassist Sam Quintana add fiery instrumental skills to the mix, launching the band's arrangements into the stratosphere. Together, their sound is both boldly contemporary and soothingly familiar, taking time-honoured traditions to new places with a fresh perspective.
The Grove Band have been together for around 10 years, playing a mixture of traditional and modern bluegrass. The tight rhythm, the instrumentation and the strong harmonies, have all been crafted from the many years of playing and performing Bluegrass Music. The band are: Neil Garratt – guitar and vocals, Alister Mcilroy – banjo and vocals, Matt Nelson – mandolin, Kevin Garratt – dobro, guitar and vocals, Pete Earle – bass.
Long Way Home is a roots music duo currently based in the Netherlands. While drawing from experience in bluegrass and American-roots music, their diverse repertoire ranges from recognizable favorites to original songs that are based on their own real-life experiences.
Owen Schinkel (The Netherlands) and Kylie Kay Anderson (Utah, USA) met in Johnson City, Tennessee while studying in the Bluegrass, Old-Time, and Country Music Studies program at East Tennessee State University. After completing their studies, Owen and Kylie decided to relocate to Co. Cork, Ireland to learn, experience bluegrass music abroad, and to become inspired by new music genres. After remaining 3 years in Cork, Owen and Kylie moved to The Netherlands to continue their journey. The Long Way Home project is the result of the inspiration and experiences gained while traveling the world together.
As those who have been fortunate enough to catch them in full flight will testify, a Jaywalkers show is an exhilarating experience. UK-based they may be but many from the other side of the Atlantic have complimented them on their particularly stylish delivery of this virtuosic brand of Americana. These three outstanding musicians have developed a tight bond, demonstrated through their well-crafted, tasteful arrangements and ability to bounce ideas around the stage. The combination of powerhouse bass, flame-fingered mandolin, blistering fiddle and three-part harmony pack a punch as fiery as Jay's lead vocals and make a fuller sound than expected from an acoustic trio.
Maidstone-based The Lowly Strung, an exhilarating five-piece Americana/bluegrass band, have been building a sizeable and passionate following across Kent and the UK festival circuit for their vibrant and exciting blend of Country and Bluegrass music that has had younger music fans whooping and hollering with enthusiasm. The Lowly Strung stray from tradition and draw upon their influences from across the globe bringing a fresh and invigorated sound bursting with energy whilst still rooted in the bluegrass idiom.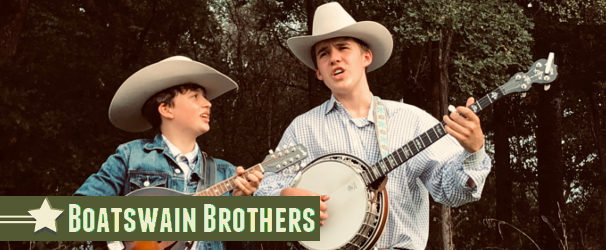 The Boatswain Brothers are a young group of bluegrass pickers and singers based in Surrey and Warwick. Oscar and Harley Boatswain started picking the banjo and guitar and singing bluegrass harmony in 2018 and knew absolutely nothing of the UK bluegrass scene, playing old time tunes with their pianist Grandad. Since then, they have been joined first by Mr. Alfie Clark on the Bass, a long-time cello player who was converted to bluegrass-bass during the 2020 lockdown. Next came Mr Jimmy Van Lin, an expert fiddle player whose speed and ferocity has been known to set smoke rising from his bow! And finally, Mr. Brad Sparks, a Tony Rice die-hard guitar picker and a mellow baritone vocalist.
The Vanguards are a five-piece traditional bluegrass band based in London, consisting of Jack Baker on mandolin, Alex Clarke on guitar, Chris Lord on banjo, Laura Nailor on fiddle and Pete Thomas on bass. They take their musical inspiration from the originators of bluegrass music. Instrumentally, they seek to create a sound which blends the mandolin style of Bill Monroe, the banjo style of Ralph Stanley and the old-time style of fiddling which typified early bluegrass recordings and which continues to influence the sound of traditional bluegrass bands into the present day.
Introducing 'The Lewis Cohen String Band', making its debut at Didmarton Bluegrass Festival. While you may recognise some familiar faces from their previous performances as 'Sapphire Storm – Full Band,' this time Lewis Cohen has assumed the role of lead vocalist in the temporary absence of Leanne Thorose. Prepare to be captivated as the band delivers a dynamic and soul-stirring set of Bluegrass, Country, and Americana songs.
Delivering a fusion of Bluegrass, Country, and Americana; Lewis Cohen will lead the way on vocals and guitar, accompanied by the talented Eleanor Wilkie on bass and harmony vocals. Kieran Towers will showcase his virtuosity on the fiddle, while Bruno Pichler will weave intricate melodies on the Dobro. Keeping the rhythm solid is the skilled percussionist, Josh Clark, on drums. Adding to the harmonious blend of voices is Emily Cross on harmony vocals. Joining the ensemble as a new addition is Richard Collins, who will bring his expertise on the banjo and mandolin.
Frequent Strangers are making their festival debut at Didmarton 2023. A new band of four talented musicians, from different musical backgrounds and nationalities, all now living in France. Paul Glasse (US) – mandonlin/vocals. Former National Mandolin Champion, inducted into the Texas Western Swing Hall of Fame and has worked with musicians including Lyle Lovett, Alison Krauss and David Grisman. François Vola (France) – guitar/vocals. At 20 he moved to the US where he studied Bluegrass. He has recorded with such luminaries as Byron Berline and Emory Lester and performed with Tony and Wyatt Rice, Roland White and more. Percy Copley (UK) – guitar/vocals. Multi-instrumentalist, actor and teacher, has been in many bands including Field and Thompson (USA) and Hillbilly Hiccups (GB/FR) and performed at too many festvals to list. Eugene O'Brien (IE) – banjo. Self taught in the 60's/70's he then converted to bluegrass and has performed in bands such as Grassfire and the Sons of Navarone. He plays with a bluesy mixture of Scruggs and melodic banjo.
Crooked Moon are an Appalachian clogging team based in Brighton. They're a dynamic dance team who love to combine traditional Appalachian steps with contemporary choreography and are accompanied by their own fantastic Old-Time band. Over the years the team has performed at many festivals and events across the country and they can't wait to come to Didmarton for the 1st time and get your feet tapping too!
The Happy Band is a moveable feast – drawing on great local musicians and dancers to suit the occasion. The Didmarton line-up includes Old Time string band musicians Keith Burrows and Derek Winter-Alsop on twin fiddles, Mike Bostock on clawhammer banjo, Cathy Benjamin guitar, Gordon Prest double bass and Jo Wright on percussive feet. Look out on the dance stage for a mix of driving fiddle tunes, harmony singing and drumming feet.
Open Mic Stage
This is intended for new or inexperienced performers. The Open Mic Stage in the Clubhouse will run from 4.00pm-6.30pm on the Friday and 5.00pm-7.00pm on the Saturday. Just pop along to the merchandise tent or Clubhouse and sign-up if you'd like to perform. Your names will be transferred to a blackboard running order by the stage. This is also an Old Time Session area when there are no open stage performances.