Our 2022 band Line-Up!
Click on a band name for more information.

The Slocan Ramblers – Canada
Flats & Sharps
The Firecrackers
The Stompin' Dave Bluegrass Band
Sapphire Storm
Bearlands
The Rip Roaring Success
Jaywalkers
Jaeja – Iceland/U.K.
The Fountaineers
The Vanguards
Carrivick Sisters
Pet Yeti
The Boatswain Brothers
The Phil Davidson Band
The Boston Boys Bluegrass Band
David & Clare Rozzell

The Slocan Ramblers blend impressive bluegrass virtuosity with a fresh contemporary appeal. Winners of the International Bluegrass Music Association's 2020 Band Momentum Award, the quartet emerged from Canada's roots music scene a decade ago. They've built a reputation around the world as a storming live band, based on their energetic live shows and impeccable musicianship (on banjo, mandolin, acoustic guitar and double bass). Their latest album Queen City Jubilee won Traditional Album of the Year at the 2020 Canadian Folk Music Awards as well as a prestigious JUNO Award nomination. With three previous UK tours under their belts, the Slocan Ramblers are looking forward to returning to the UK in festival season, and they're sure to win many more fans here in 2022.
Flats & Sharps are a four-piece bluegrass outfit from Penzance, Cornwall. Delivering energetic, enthusiastic, and spirited Bluegrass to audiences all around the world, Flats & Sharps have been performing their unique take on this music for over ten years. Their shows include a wide variety of influences, from a fresh and modern outlook on foot-stomping Bluegrass material through to their powerful and well-crafted original songs, with beautiful moments everywhere in between. Their music perfectly blends strong harmonies and stonking solos, their incredible stage presence and energy create an evening that'll have you dancing, laughing and singing along in no time. Over their time together, the band have made their presence known all around the world, including multiple tours in Australia, Europe and around the UK.
Forged by many joyful late-night sessions, The Firecrackers play party tunes and songs taking inspiration from the high energy music of their fiddle heroes from the 1800's to the present day. Songs and tunes from the Camp Creek Boys, Skillet Lickers, The Foghorn String Band and The Wandering Ramblers all feature in their lively set. The line-up for Didmarton features Dave Proctor and Emily Smith on fiddle, Andy Quelch on guitar and Graeme Parry on bass; joined by the fabulous Dan Stewart on banjo. Their combined credits include The Midnight Specials, The Brickyard Rounders, A&E Oldtime String Band, Ragged Out String Band and Rattle on the Stovepipe.
Playing classic bluegrass and old-time music Stompin' Dave & His Bluegrass Band is led by Stompin' Dave "One of the world's greatest performers" according to Maverick Magazine on vocals, five string banjo and flatfoot dancing. The band features members of top London hoedown band Cut A Shine. Forming in 2012 at Didmarton Bluegrass Festival, Stompin' Dave & His Bluegrass Band has made headline festival appearances including National Banjo Day, The Tolpuddle Martyrs Festival, and The Folk Barn at Wilderness Festival. The group features Hackney based Joe Buirski who is not only a great musician but a dedicated promoter of folk and roots music. Also the ever ebullient Ally McAuley on guitar and vocals. In addition is the amazing talent of Jerry Bloom on fiddle.
Sapphire Storm is a powerhouse duo, performing a mixture of Country, Bluegrass, Americana Music plus their own original songs, featuring Leanne Thorose on vocals & mandolin/guitar and Eleanor Wilkie on double bass & harmony vocals. The duo is a spin-off collaboration from all-female bluegrass band 'Midnight Skyracer, who were the first bluegrass band in the UK to be signed to a major record label, (Island Records) back in 2020. Sapphire Storm released their debut album – Two Hearts & A Double Shot Of Whiskey – in March 2022, consisting of 10 original tracks, some of which will no doubt be performed for you live.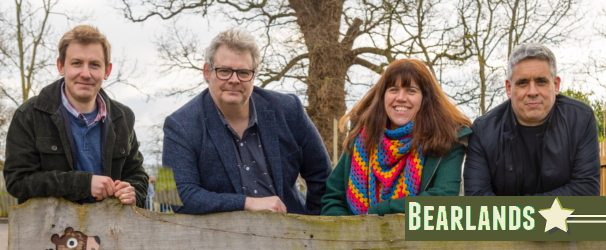 Bearlands are a new folk/bluegrass band from Wotton-Under-Edge in Gloucestershire. The idea came from vocalist and banjo player Beth Hill and guitarist Jason Titley, both veterans of the UK bluegrass scene, who began playing together after the 2020 lockdown. The other half of the quartet, Andy Guy (upright bass and vocals) and Joe Tozer (mandolin) joined in 2021 to complete the line-up. Finally, after two disruptive years, Bearlands are looking forward to sharing music with audiences again in 2022 with live shows and recordings scheduled. With many years served in previous folk, country, and bluegrass bands, Beth, Andy, Jason and Joe now combine their varied influences and talents in Bearlands to deliver melodic vocal led performances backed up and embellished with skilled musicianship.
The Rip Roaring Success are the hottest Western Swing Band East of El Paso featuring Wild Miss Lucille on double bass, Miss Jay tearing it up with some smokin' hot fiddle and the token gent, the one and only Rusty on six strings of flamin' geetar and hillbilly vox. Folk at venues and festivals up and down the country will testify that when you want the prairie set on fire with jumpin' hoedown tunes then there ain't no success like a rip roarin' one.
As those who have been fortunate enough to catch them in full flight will testify, a Jaywalkers show is an exhilarating experience. UK-based they may be but many from the other side of the Atlantic have complimented them on their particularly stylish delivery of this virtuosic brand of Americana. These three outstanding musicians have developed a tight bond, demonstrated through their well-crafted, tasteful arrangements and ability to bounce ideas around the stage. The combination of powerhouse bass, flame-fingered mandolin, blistering fiddle and three-part harmony pack a punch as fiery as Jay's lead vocals and make a fuller sound than expected from an acoustic trio.
JÆJA (Iceland/U.K.)
Formed for an expedition to the uncharted bluegrass territory of Iceland, JÆJA is a contemporary acoustic quartet composed of four inquisitive young musicians, blending together influences of bluegrass, jazz, old time, and Scandi-folk to create their unique, unbridled sound. Guitar powerhouse, Bragi Ólafsson from Reykjavik is joined by mandolin maestro Evan Davies (The Often Herd), jazz bassist Sam Quintana (Wandering Monster), and fiddle player Kieran Towers (Charlotte Carrivick / Pet Yeti) to create broody and blazing original instrumental music, paired with carefully chosen 3 part vocal favourites from Tony Rice to Paul Simon. The four piece made headlines for performing the first ever bluegrass concert in the prestigious Harpa Concert Hall (Reykjavik) and received numerous nationwide airplay on Iceland's Radio 1 following their headline performance at Siglofest in 2021.
Tethered by an interest in American roots and bluegrass music rarely found in Scotland, The Fountaineers are a group of four, formed in a summer of socially-distanced interactions (2020). Having found space of their own in Glasgow, a home renowned for its fierce traditional music scene, Callum MT (mandolin), Jeri Foreman (fiddle), Michael Wright (guitar/vocals) and Rob Hart (banjo) are creating music that adheres to traditions, fosters creativity and blends the progressive intent found in shared musical heroes such as Lester Flatt and Earl Scruggs, Tony Rice and Alison Krauss and Union Station. Since emerging from lockdown, The Fountaineers have released a debut single and have performed in Northern Ireland, England and overseas as Virtual Showcase artists at the WOB Bluegrass Ramble, IBMA 2021 (USA).
The Vanguards are a five-piece traditional bluegrass band based in London, consisting of Jack Baker on mandolin, Alex Clarke on guitar, Chris Lord on banjo, Laura Nailor on fiddle and Pete Thomas on bass. They take their musical inspiration from the originators of bluegrass music. Instrumentally, they seek to create a sound which blends the mandolin style of Bill Monroe, the banjo style of Ralph Stanley and the old-time style of fiddling which typified early bluegrass recordings and which continues to influence the sound of traditional bluegrass bands into the present day.
The Carrivick Sisters are one of the UK's top young bluegrass and folk acts. Twins Laura and Charlotte perform their original songs and instrumentals along with a few carefully chosen covers on guitar, mandolin, fiddle, dobro, and clawhammer banjo. Their busy touring schedule is rapidly building them a reputation for engaging and entertaining live performances with tight sibling vocal harmonies and multi-instrumental virtuosity. Having grown up in South Devon, an area rich in folk lore and legends, much of their original material is inspired by their local surroundings and history. As well as touring all over the UK, they have performed at festivals in Canada and mainland Europe, were BBC Radio 2 Young Folk Awards 2010 finalists and were named Band/Duo of the Year in the 2011 FATEA Awards.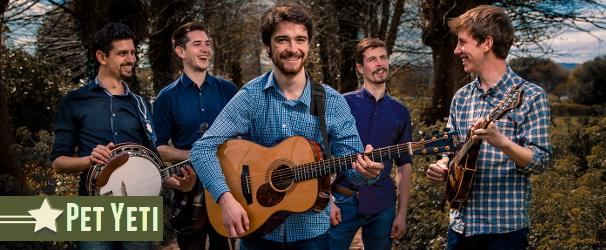 Pet Yeti is certainly more than the sum of it's parts, an explosive live act not to be missed! High octane solos, lonesome harmonies and trendy footwear. This five-piece band have an impressive list of achievements and awards between them. Reuben and Benjamin Agnew (guitar and bass), two brothers from Northern Ireland were 2015 BBC Young Folk Award Finalists. Kieran Towers (fiddle) is becoming a name to watch out for on the UK and US bluegrass and old-time scenes. Joe Tozer (mandolin) has toured extensively in the UK, Europe and Canada. John Breese (banjo) is another familiar face on the UK scene. Since graduating from his Masters' Degree on classical guitar in 2011, he has gone on to tour and teach internationally with the banjo and double bass in various bands.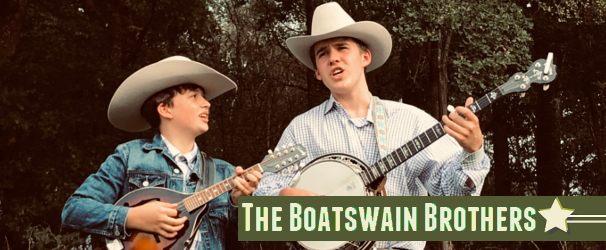 The Boatswain Brothers are a young group of bluegrass pickers and singers based in Surrey and Warwick. Oscar and Harley Boatswain started picking the banjo and guitar and singing bluegrass harmony in 2018 and knew absolutely nothing of the UK bluegrass scene, playing old time tunes with their pianist Grandad. Since then, they have been joined first by Mr. Alfie Clark on the Bass, a long-time cello player who was converted to bluegrass-bass during the 2020 lockdown. Next came Mr Jimmy Van Lin, an expert fiddle player whose speed and ferocity has been known to set smoke rising from his bow! And finally, Mr. Brad Sparks, a Tony Rice die-hard guitar picker and a mellow baritone vocalist.
The music of The Phil Davidson Band is rooted deep in the U.K. Bluegrass scene. Headed by the inimitable Phil Davidson on guitar and vocals and although he is mostly known as a luthier he sings and picks a mean guitar too. Add to that Seonaid Matheson, fiddle extraordinaire, Helen Hutchy, bass monster with a dazzling smile and Phil Stott, big quiet guy with explosive mandolin. You won't want to miss this band.
These players have been on the U.K. bluegrass scene for ever and have now combined to form a joyous mix of harmony vocals and slick playing. John Boston on fiddle is joined by old friends and top players Chris Moreton on guitar and Dick Embury on bass. Hilary Gowen is the banjo player any band would love to have and Jeremy Cozens on mandolin also adds a smooth tenor voice to the sound. Come and enjoy a great mixture of traditional and new bluegrass with a cockney twang.
If you've been around the U.K. Bluegrass scene for any length of time you will know David and Clare as two thirds of Wood, Wire and Words, but after 18 years they are striking out as a duo. During the first lockdown they began broadcasting the Folkgrass Lockdown Sessions every Friday night, bringing live music to those in isolation worldwide. During their 100th broadcast, the Didmarton Committee asked them if they would open this year's festival, to mark their fantastic efforts keeping us all entertained and the flag flying for the last two years. With even more original music to share, David's acclaimed vocals and rhythm guitar and Clare's rock solid double bass and beautiful, airtight harmonies, will sweep you along on a roller-coaster ride of emotions.
BBMA Open Stage
This is intended for new or inexperienced performers. The BBMA OPEN STAGE in the Clubhouse will run from 4.00pm-7.00pm on the Friday and Saturday. Just pop along to the merchandise tent or Clubhouse and sign-up if you'd like to perform. Your names will be transferred to a blackboard running order by the stage. This is also an Old Time Session area when there are no open stage performances.